Central offices are buildings located all over the world. They typically are regionalized in a city or neighborhood depending on the amount of people/ businesses that live there. These building are where internet and phone service is provided. The picture shown here on the left is the main central office for the downtown city of Grand Rapids, Michigan USA. There are multiple buildings like this placed all over the city.
Central office wiring can be done in many different ways, but the most important part is trying to deliver the most amount of connections in the least amount of space. This is because this space is limited and also costs a lot of money. When ACD.net first started they delivered service to the best of their ability; based on the wiring technology at that time. Just like any industry, things change, and new ways of providing service is enhanced.
I was primarily in charge of this project. My role in this whole wire wrap block process was finding a manufactuer that matched the pin-out we needed as well as find the right fit wire management to keep the wiring clean. We actually re-pinned out some of our blocks to increase the density. After finding the blocks and testing out how they worked with our equipment and in the space we had; I then had to determine the order we did our upgrades. I personally was on site most nights physically spending overnight at these central offices to ensure they were done in the way the company wanted. That included keeping things neat, ensuring we have wire management in the right spots, and ensuring our higher end services came back online before the next business day.
Though not all of the old wiring pictures are from this project, the new wiring pictures are. Below is an example of the original old wiring punch-down panels. If you look close, you are using a lot of space for only 12-24 connections (CFA) to the public wiring domain. Each row only has only 12 connections/ customers.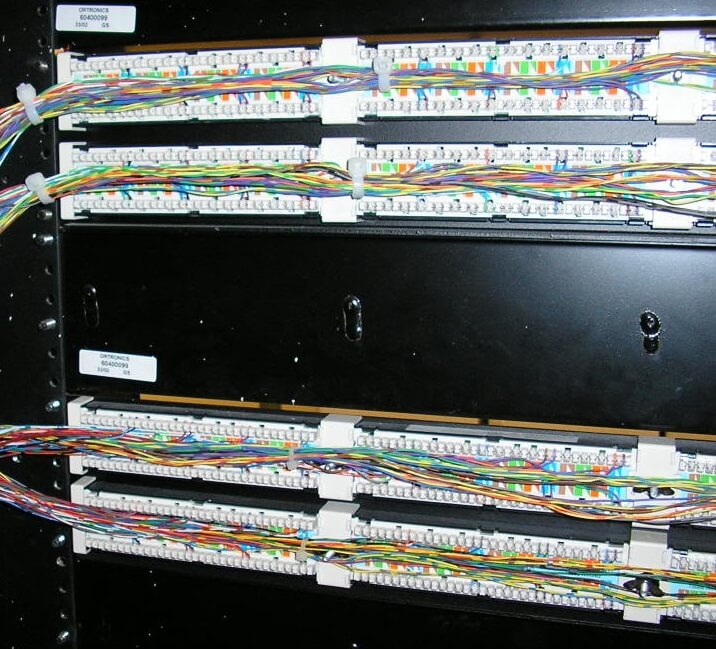 This picture shows a close up of the punch down wiring. You can see the blue and white cross-connect wire jumpers between the inside panels ( connecting to ADSL DSLAM card or T3/E3 router card) to the external panels (to a home or business outside world). The problem you run into with this older technology is that these pins start to stretch apart and no longer cut into the wires and provide a good connection.


As stated above this wiring technology did it's job when it first came out, but now a days we need to use our space more wisely as our towns and cities grow larger. Not only do we need to provide better connectivity, but we also need to upgrade the physical wiring as well. What this does is allow us to put more power on the wire with less resistance. In return we get faster speeds for our internet. So, we are upgrading a CAT 3 cabling to a twisted pair CAT 5 wiring. Though there is CAT 6 in the industry, we do not need to move to that cabling level due to the efficiency of CAT 5 and technology we have to provide internet over that wiring.
The newer wiring technology offers pins instead of punch down blocks. We wrap the wire around the pin and drive the connectivity into the pin instead of relying on a pinched connection.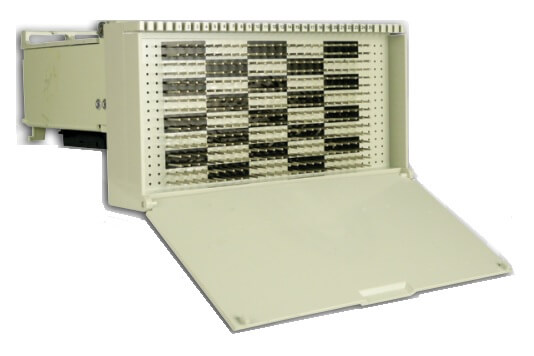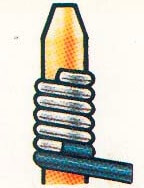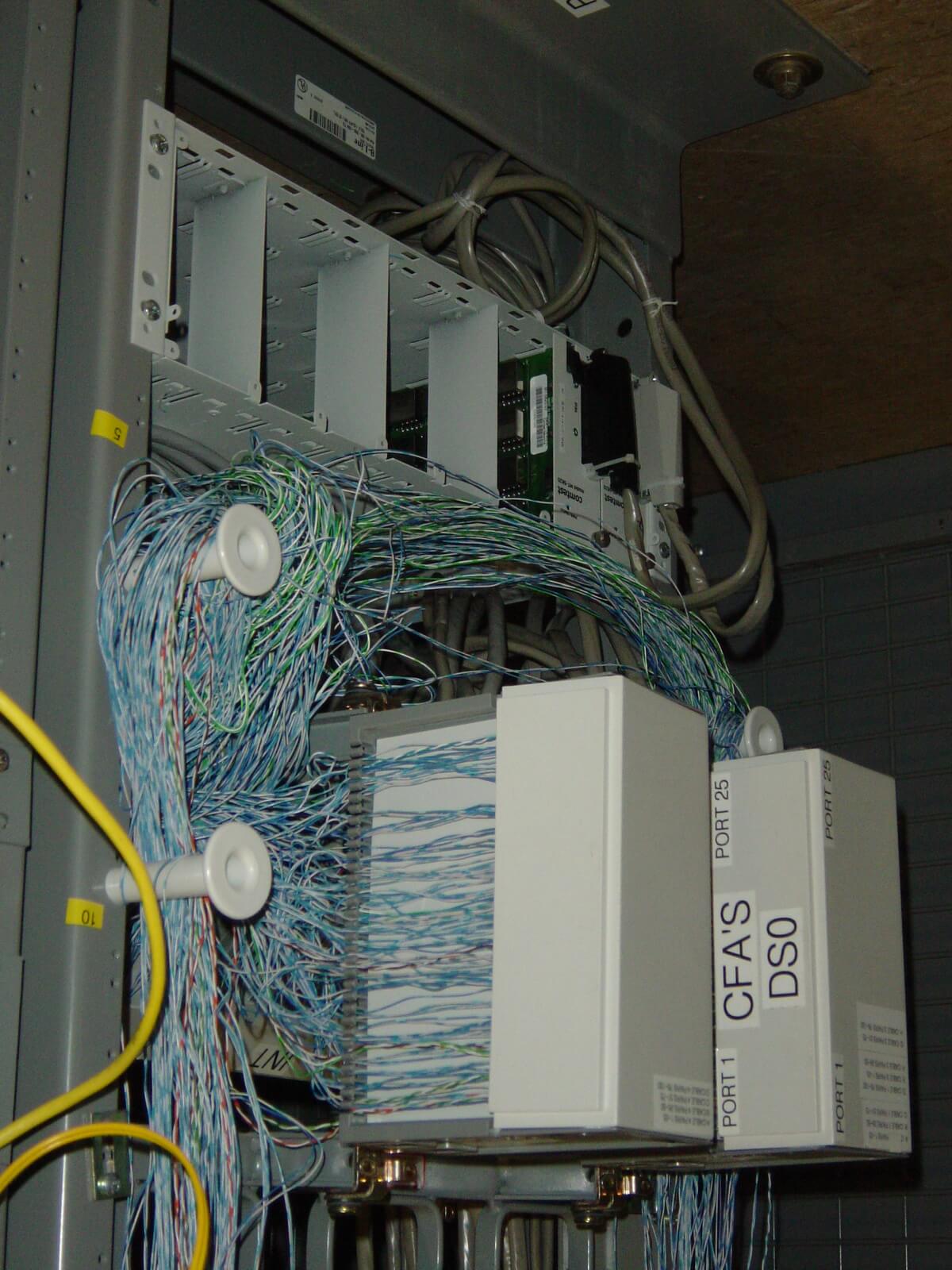 Wrapping the wire around the pin like this improved the connectivity as well as reduces the chance of wires becoming loose. By upgrading the wiring to wire-wrap blocks we can use the same amount of space, but increase the amount of connections by 8 fold. Additionally, we are able to more easily track down jumper wires between the internal side and external side. Which means when their are faults or we have a bad port on our equipment, we are more easily able to troubleshoot the scenario.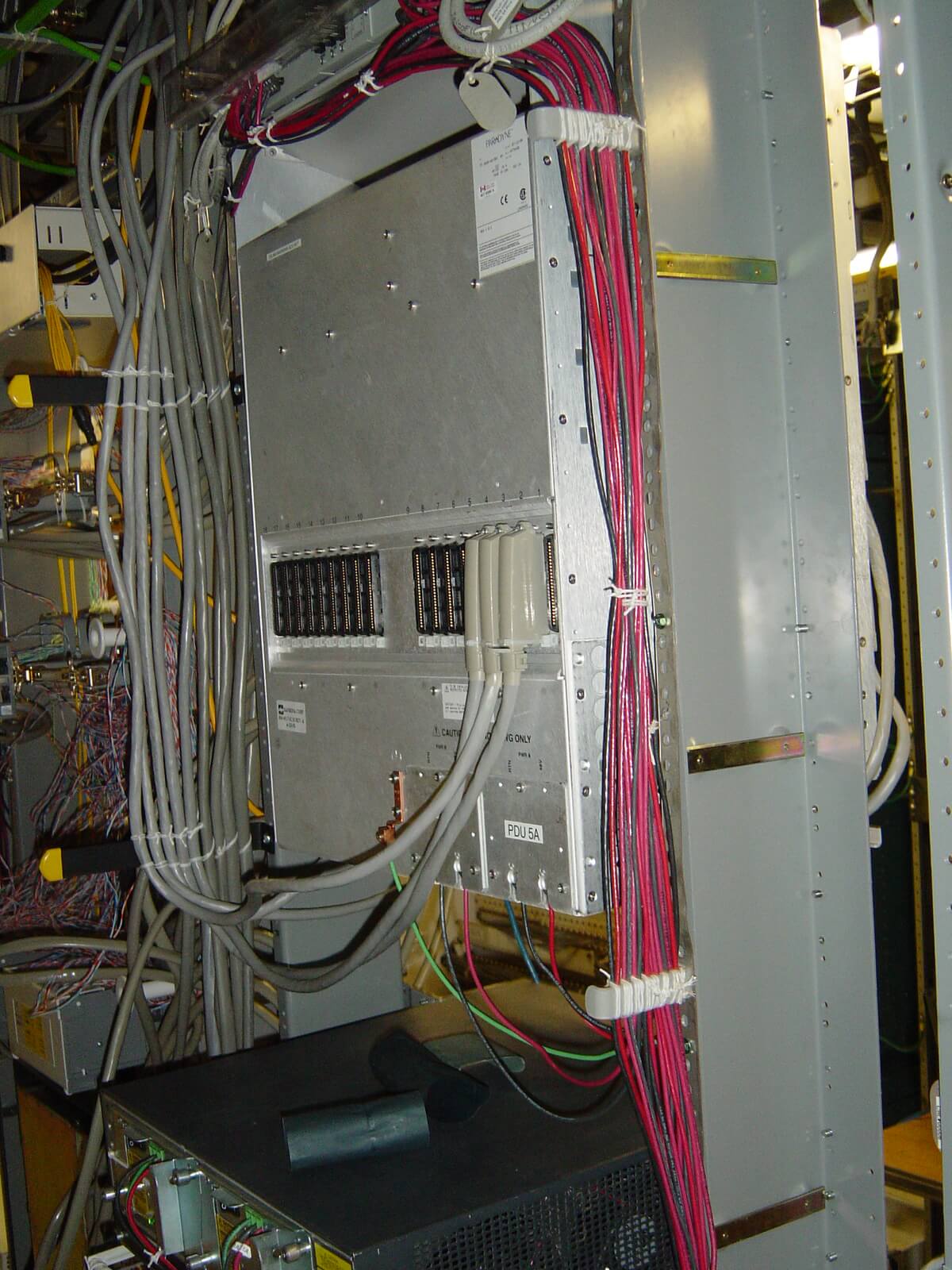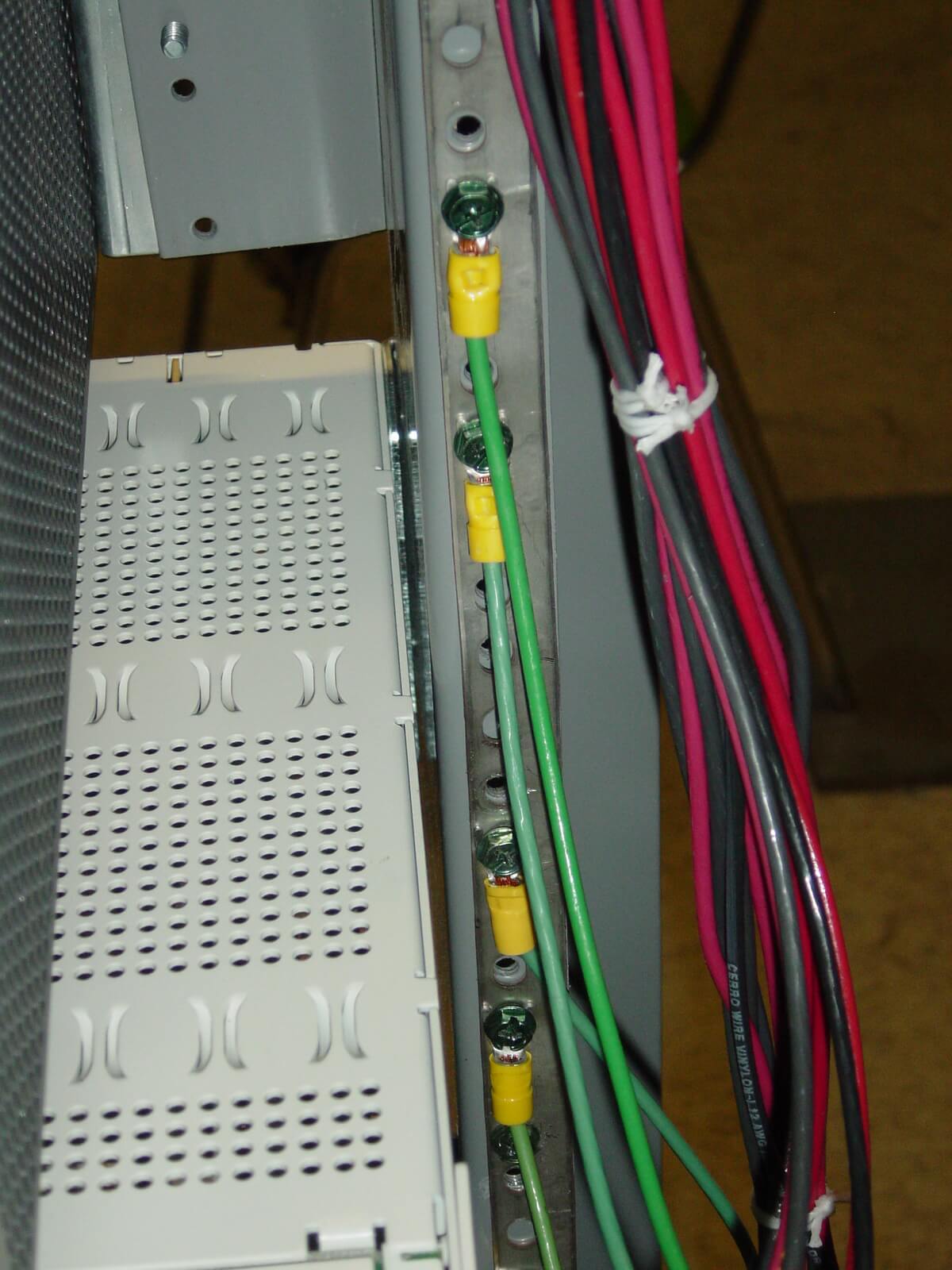 In this project of upgrading central offices, we also took the time to clean up existing wiring. This includes reducing the amount of older equipment we are using and making room for new technologies. By reducing the amount of older equipment, that allows us to properly audit the hardware as well as our internal documentation to ensure everything is functioning properly and documented correctly.
What you can see here in this picture is:
The DC power cabling (red and black) is seperate from the other wires. Which prevents electrical interference.
The equipment has the power ports properly labeled on the equipment in the event we have to replace a power supply or a fuse is blown.
We've reduced the amount of cards and cabling from the DSLAM (silver box in the middle)
All of the amphonel cables are properly tied down and are easily traceable
The DSLAM and the Cisco 7200 is properly grounded to a ground strip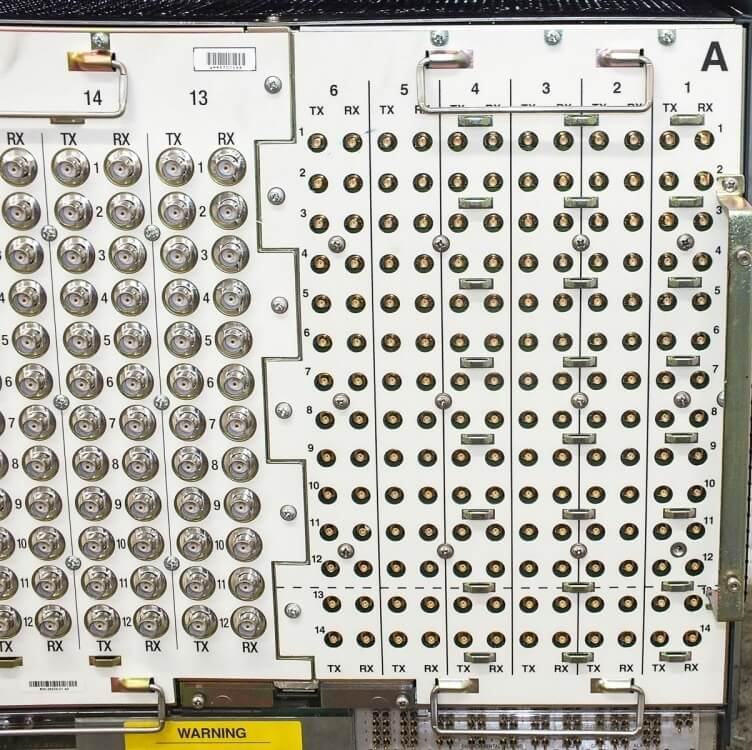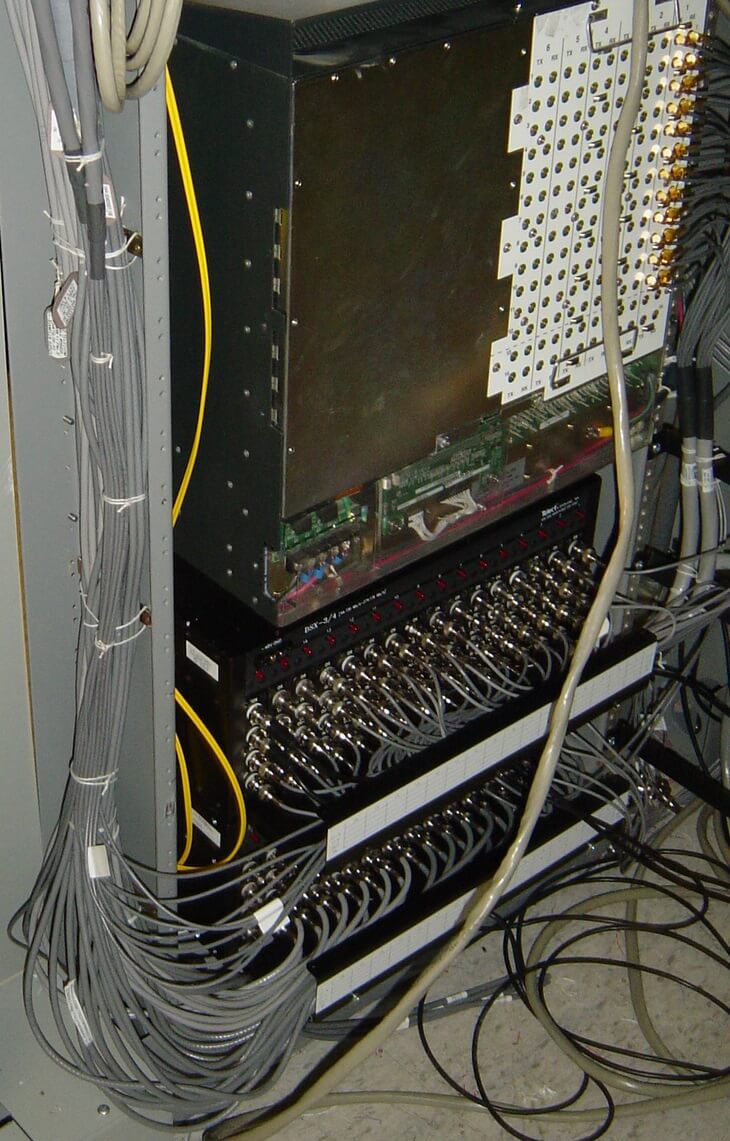 What you see here is a Cisco 15454 rear backplane T3 panels. On the left side shows the regular BNC panels which holds 60 ports. On the right is showing the SMB backplane upgrade we were performing. Which increaseds the amount of ports to 84 ports.
This allows us to move our DS3 traffic on our fiber network, which creates:
Telephone circuit connectivity with AT&T
Inter connection between other carriers
Internal circuit redundancy
Allows us to sell DS3 point-to-point circuits to customers.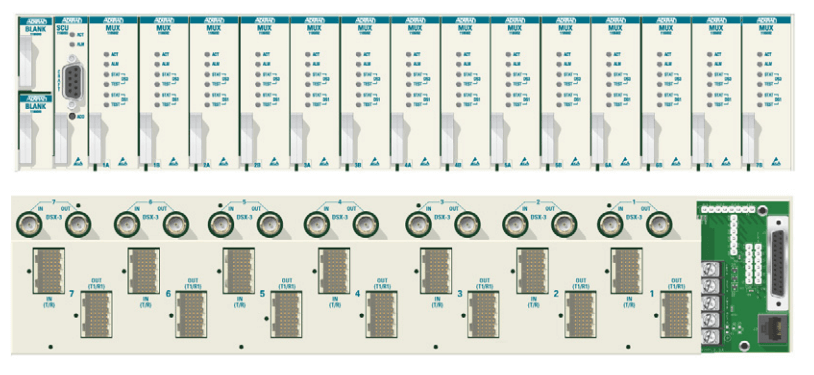 Part of standardizing all of our central offices, we wanted to upgrade our Adtran 2800 mux's which supports one DS3 (top image) to support up to 14 with a Adtran 2820 mux. This allows us to quickly add additional T1's to a central office without the need to find space in the rack and additional power.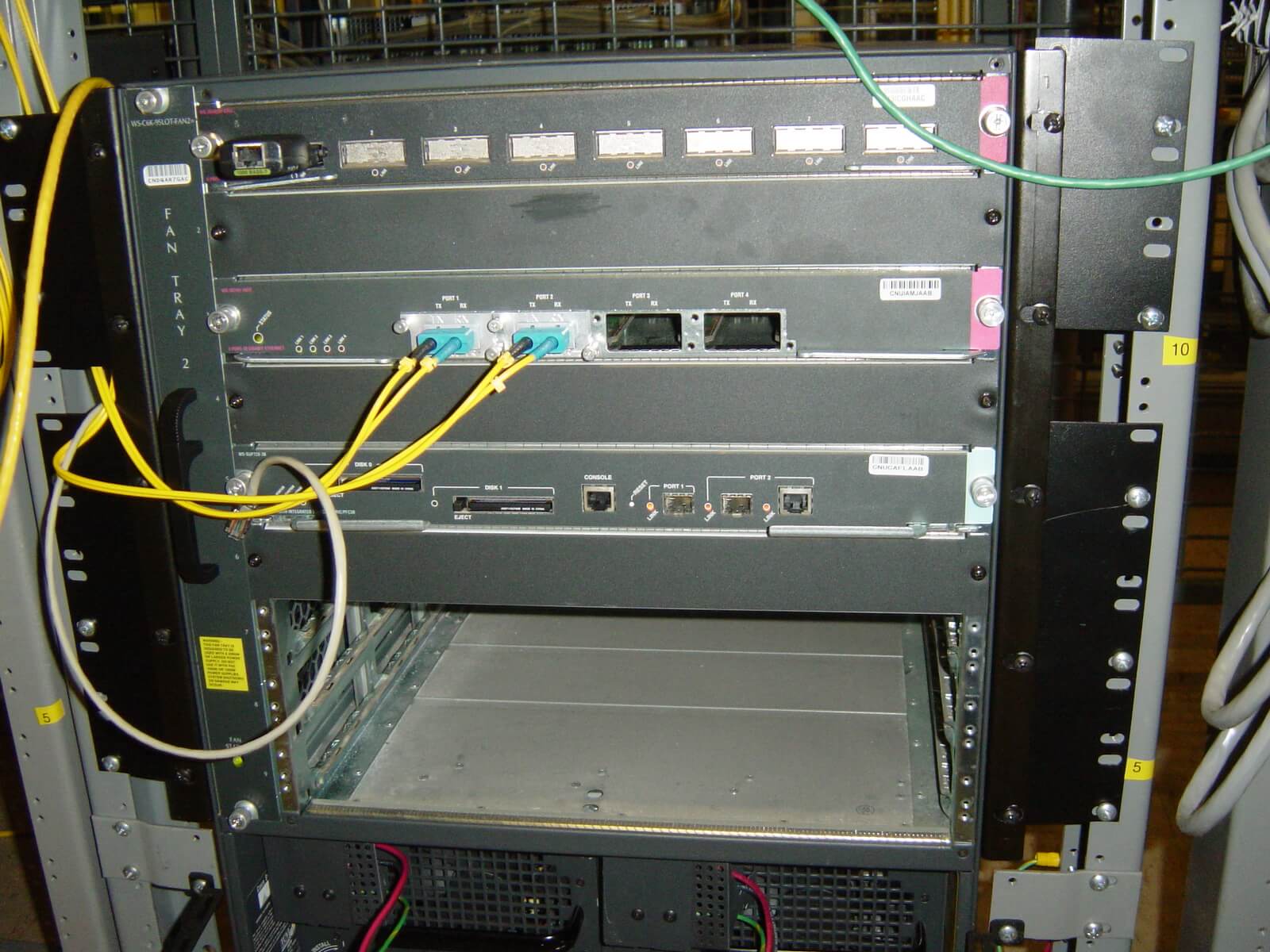 Lastly, part of the entire central office upgrades included upgrading our Cisco 5500 series switches to Layer2/3 Cisco 6509 routers. During the time in which I was at ACD.net, we were really starting to gear up our fiber offering to customers. Upgrading to a newer platform offered more bandwidth on our core backbone, better redundancy, and allows us to provide fiber directly to businesses.
Part of my interaction with these beasts included testing supervisor cards, backplane's and IOS images to ensure the hardware has enough memory and is ready to deployed into a production environment. Once myself and team did all of our testing, we then installed the hardware into the central office, programmed it with the correct OSPF area, and connected it into their own fiber ring.